Getting ready for the Whisky Revolution Festival
19th-20th October 2019 – Castelfranco Veneto, Italy
Just about a month ago, italian whisky experts, bottlers, distillers and prominent enthusiasts met at Puni Distillery in Glorenza, Italy.
With Puni being the only whisky distillery in the country, they hit the right place, at the right time.
The occasion was the Whisky Revolution Festival Talk (WRF Talk 2019), a meeting conceived as an authoritative introduction to the 2nd edition of the Whisky Revolution 2019, a festival to be held in Castelfranco Veneto (TV), Italy, on the 19th and 20th October 2019.
Whisky Revolution Festival (WRF) started last year with a clear objective in mind: to challenge stereotypes in whisky drinking and open the world of fine malts to a much greater audience.
Davide and Dario Cerantola, the brothers behind the WRF and owners of the Blend Whisky Bar, want to lead the change in the italian whisky scene.
Italy has a glorious past in whisky appreciation, having played a major part in single malt selection during the 70's, but despite growing trends in recent years, it's still a small market for whisky.
The goal of the WRF Talk was precisely to focus on what keeps italians away from whisky drinking, address the problem and look for a solution together.
Whisky Revolution Festival plays an active role in this process.
With its laid-back atmosphere and unconventional approach, the event is conceived as a playful introduction to fine whisky drinking.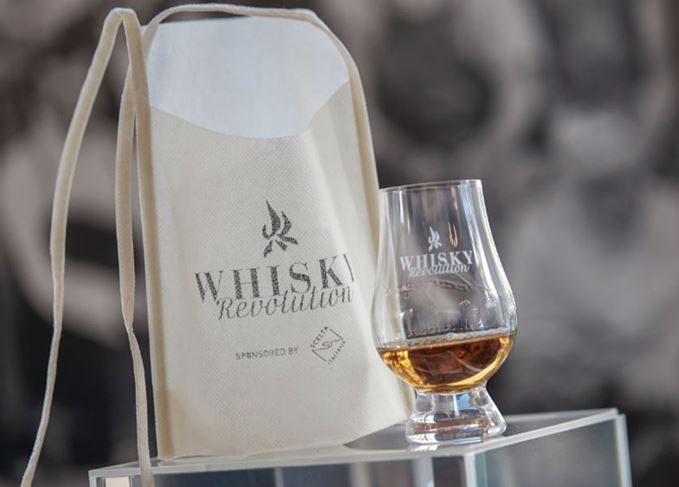 The festival opens on Saturday with its Cocktail First bar, introducing an exclusively designed drink list with a selection of products from the exhibition area.
Mixology can be a prime tool in bringing people to taste and appreciate products they would normally neglect. In the italian drinking culture, whisky is still strongly related to the iconic image of an old man sitting on a leather chair smoking his cigar, and this, as you can imagine, keeps away a lot of people.
A cocktail bar with live music or a DJ set is a much more appropriate setting to welcome young people, women and a lot of men not identifying themselves with the classic image of the whisky drinker, but still fascinated by whisky and eager to taste and learn about it.
This open minded attitude leaves its mark on everything at the WRF.
Masterclasses are scheduled and intended as a way to take a step further in whisky knowledge, providing an opportunity for in-depth discussion on particular products. This shows us there is still place for a more traditional approach to whisky culture: the message here is that anyone, expert or newcomer, can show up and learn something.
On Saturday afternoon Valentino Zagatti, the great italian whisky collector, will share his views and experience, while Scotch Whisky Auction's Thomas Gardiner will introduce his guests to the world of whisky investment and share some of his favorite drams with them.
Armorik will hold a masterclass about its range and Diageo will present its limited edition.
Taste of Spirits, italian Irish whisky importer and Irish Whisky Magazine partner, will present some of its products, while Lost Dram Selection's Fabio Ermoli will disclose its Single Cask choice.
Among the other brands holding masterclasses during festival days are Glencadam, Old Ballantruan, Arran, Wemyss and Puni.

WRF program includes other social moments bringing people together around whisky.
On Sunday, a brunch at 12.30 will be the occasion to informally meet the exhibitors and taste some whiskies with food pairings, while the Tasting Notes Live, taking place right after the brunch, allows attendees to follow the most influential italian whisky bloggers at work.
On Saturday night the Festival will invade the town center of Castelfranco with the WRF night: shops, bars, restaurants, parties and exhibitions will be taking part in this big whisky event with special offerings designed for the occasion.
A new generation of italians is developing interest for whisky and premium spirits and the Whisky Revolution is trying to be the voice of this whisky enthusiasts' new wave.
The numbers at Milano Whisky Festival and Roma Whisky Festival (the two classic events for italian whisky lovers) are constantly growing and Castelfranco is now building a reputation among the same audience, while also bringing new people to the game.
Castelfranco is a small town of some 30.000 people in Prosecco country, in the north-eastern region of Veneto. To hold a whisky festival is different here: we're not in Rome or Milan, where the big numbers make it easier to grow. We're in wine-drinking country and, while this maybe makes everything harder for whisky to drive interest, it also leaves space for a much more relaxed atmosphere. And that's where the point is. You can leave your worries behind, head to the country and meet with a bunch of like-minded folks looking for the same thing: excellent whisky and good company.
You don't need to be part of an elite niche to show up and have fun, you just need to bring your curiosity and will to learn and you're ready to embark (or keep going) on your personal whisky journey.
Since last year Castelfranco stands as a beacon of innovation for the italian whisky scene and this year more and more whisky lovers will be there to witness.